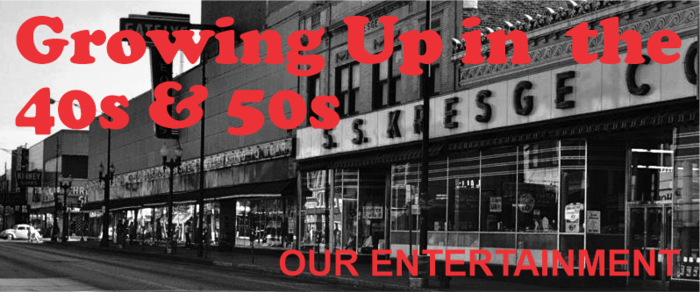 INDEX
Our folks must seem like horrible parents for allowing these activities, but it was a truly different world when we grew up. Thank goodness!
The Smell of Mimeographs and Dittos
Helping the teacher was especially rewarding if you got to pass out her papers fresh off the mimeograph or ditto machine.
Entertainment in the 50s
This is a classic history film on the 1950s in America that focuses on television and entertainment -- including famous commercials, TV shows, horror films, atomic monsters and famous characters.
Topps Trading Cards
A look back at how Topps went from selling bubble gum to being a leader in sports trading cards
The YMCA
A look at the organization -- 111th Street YMCA -- that played an important role in our lives from about ages 8 to 18.
A look back at drive-in movie theaters and how they started in the 1930s.
Top 50 Greatest 50s Music Hits
Prime Time TV in the Late 1940s
Looking back at some of the shows that began their television run in 1948 and 1949.
Top 20 Greatest Songs 1940-1949
A look back at the publication that was a reflection of American society, The Saturday Evening Post.
Some screen shots and audio clips from U.S. TV shows from the 1950s:


A look back at summer camps through the years..
Classic Toys of the 1950s and Outside Fun
A look back at classic toys from the 1950s. From Barbie's, bikes, and Hula Hoops to board games, jumping rope, and playing with Play Doe, this was a great time to grow up.
The 1940s saw some toys come on the market that were actually considered a mistake, and yet they are still popular today. This video is about some of the most popular toys of the 1940s.