ANNOUNCEMENTS
60th REUNION
I've just added a slightly better photo of our class picture. Check it out on the 60th Reunion page.
The slideshow from our recent reunion has a page of its own and a photo key to help you identify everyone. Just click on FENGER HIGH SCHOOL and choose "60th Reunion" from the fly-out menu which will appear.
THE CINNAMON BEAR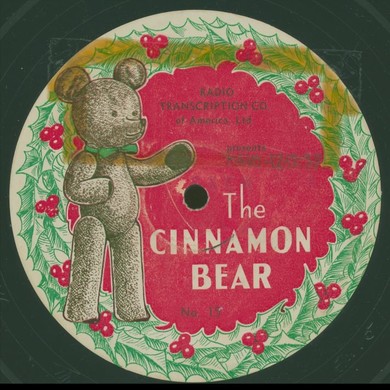 . . . and here's the Cinnamon Bear. The wonderful childhood classic returns to our site for you to share with your grandchildren or enjoy all over again.
For a brief history of The Cinnamon Bear, a map of Maybe Land, short bios on the actresses and actors who voiced the roles, and a few surprises, click on SPECIAL SERIES/The Cinnamon Bear in the left hand column of this, our HOME PAGE.
UPDATES
50th REUNION SLIDESHOW RECREATED
You may remember that PhotoBucket went out of business and the slideshow of our 50th had to be redone. Well, since we're all waiting for the 60th slideshow, I thought I'd give you something to look at and I've redone the one for the 50th. I used a Windows program this time. I don't think they will go out of business. You'll find it on the 50th REUNION page under FENGER HIGH SCHOOL in the list on the left.
VV at OUR REUNIONS
Just posted photos of those from Van Vlissengen who attended some of the reunions and had their picture taken together. You'll find them under Photo Galleries from Grade Schools or, the easy way, by clicking on the following link.
http://www.fengerjune1958.com/class_gallery.cfm?gallery_id=18350
BRENAN CLASS PHOTOS
Thanks to Glenn Peterson we have 4 of his class photos from his time at Brenan grade school. They all need identifications so all you Brenanites please put on your thinking caps and send me the names of your classmates. You can click on "Contact Us" on any page or email me directly at mckwd@aol.com. (Brenanites please send your photos to me also.)
To find the new Brenan page, go to "Our Grade Schools" in the list to the left and click on it.
NEW "WHAT'S COOKIN'?" PAGE
Before I even had time to place an announcement about the new feature, I have a recipe! Connie Agnos provided a submission for everyone's favorite Greek dessert, Baklava. Just look for the title "What's Cookin'?" in the column to the left of this page and click on it to find his recipe and, no doubt, other tasty offerings from our classmates. Or, you can click on the link: http://www.fengerjune1958.com/Whats-Cookin.htm
PETALS FROM ROSELAND
Enjoy CJ Martello's observations and stories about our town.
Posted October 22 - "Fond Memories Can Yield Great Stories"
You'll find this series listed on the fly-out menu under ROSELAND or by clicking on the link below: http://www.fengerjune1958.com/PetalsfromRoseland..htm
ROSELAND: BEFORE OUR TIME
The final installment of "Roseland: Before Our Time" has been posted. My thanks to Marie K. Rowland's Down an Indian Trail in 1849; Photos from Henry R. Koopman compliments of ebay.com, the Pullman State Historic Site, the Pullman Research Group, and Illinois Digital Archives; the South Suburban Geneological and Historical Society's Pictorial Roseland; Facebook's "Roseland History" page; and other references too numerous to mention for their inspiration and material. You'll find the series by clicking on ROSELAND from the list on the left side of this page and then choosing "Roseland: Before Our Time from the fly-out menu that will appear or by clicking on the lick below:
http://www.fengerjune1958.com/class_custom.cfm?page_id=364656
2 NEW SNAP SHOTS
A photo of a slumber party at Jan Eng Gollberg's house given to us by Shelly Radius Navarette appears with other grade school photos on the OUR GRADE SCHOOLS page--listed on the left of this page. Clicking on it will provide a menu; you will choose "Photo Galleries" and then "West Pullman."
To find a photp of a day at the beach given to us by Gail Rock, go to FENGER HIGH SCHOOL. Choose "The Fenger News" from this fly-out menu and then choose "Casual Shots" from the page that comes up.
These locales seem very logical to me, but I can see where they would be impossible to find for anyone else. Sorry. We'd love to have more photos like these. Please search you stuff!
ALL YOU NEED TO KNOW BUT ARE
TOO SHY TO ASK
We didn't have the "computer advantage" when we were growing up so many of us are a little timid when approaching this newfangled contraption. With that in mind, a new forum section entitled "All You Need to Know But Are too Shy to Ask" has been created.
The new feature has directions for many of the skills needed to take full advantage of our web site. It even explains how to print those directions so you can have them in front of you as you navigate into new territory.
A second feature explains exactly how to obtain additional help with any problem which may come up. It's really simple: just email me, as site administrator; and I'll get the answer straight from the experts at Class Creator.
So now, with a little bit of determination, you can fully explore the site, send emails, reply to survey questions, comment in forums, and load pictures. Just click on the link below.
http://www.fengerjune1958.com/class_
forums_threads.cfm?fid=2024
A NOTE TO NEWCOMERS
Please register and choose a password so you can explore the complete site we have created. It's filled with classmates' memories, pictures, updates, information on the Fifties, and more.
So, welcome to the World of Fenger - June 1958!