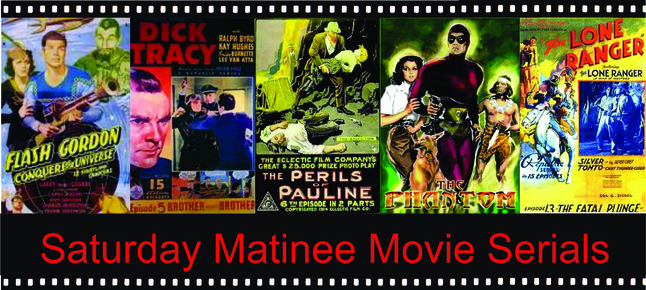 Dick Tracy vs Crime, Inc.
Dick Tracy goes up against a villain known as The Ghost, who can turn himself invisible. This was the last of the four Dick Tracy serials produced by Republic, although Ralph Byrd went on to portray the character again in two features and on television.
Video Starts Here
Flash Gordon, Dale Arden and Dr. Alexis Zarkov visit the planet Mongo to thwart the evil schemes of Emperor Ming the Merciless, who has set his planet on a collision course with Earth.
Video Starts Here
It's 1865 and the telegraph is heading west. George Crane, wanting to keep law and order out of his territory, is out to stop the construction. The engineer on the job is Ken Mason (Clayton Moore) and he is the grandson of Zorro. As Crane sends his men or Indians to stop the work, Mason repeatedly puts on the Zorro costume and rides to the rescue in this 12-chapter serial.
Ghost of Zorro is a 1949 Republic serial and uses substantial stock footage from earlier serials, including Son of Zorro with Bob Steele.
Video Starts Here
The Wolfman, a mysterious masked figure, is leading an Indian uprising to drive local settlers off their land. The Wolfman kills Jimmy Carter's father and Alan Scott's brother, which leads the two heroes and Alan's dog Rinty to hunt down and defeat the villain. The serial stars Rin Tin Tin his last role, and It is regarded as one of the better Mascot serials.
Video Starts Here
In 1865, Captain Mark Smith of the Confederate Army leads a band of deserters to conquer Texas and rule it as a dictator. In one their first actions, they ambush and apparently wipe out a contingent of Texas Rangers, although they leave one injured survivor. The survivor, nursed back to health by Tonto, swears to avenge the massacre and defeat Captain Smith (who has assumed the identity of Texas' new Finance Commissioner, Colonel Marcus Jefferies, after having the real man murdered).
Video Starts Here
A pack train led by Kit Carson (Johnny Mack Brown) is attacked by the outlaw Kraft and his Mystery Riders, who want a government shipment of gold carried by the wagons. Matt Fargo manages to hide the gold, but Carson must confront the Mystery Riders time after time in order to prevent them from finding and carrying away the treasure.
Video Starts Here
The Miracle Rider
The Miracle Rider is a 1935 Mascot movie. The serial stars silent movie cowboy star Tom Mix in his last major film role.
Zaroff, a rancher and oil company owner, wants to drive the Ravenhead Indians off their reservation so that he can mine the rare element X-94, a super explosive, found there and sell it to the highest bidder. Texas Ranger Tom Morgan (Tom Mix) tries to stop him and save the tribe.
Video Starts Here
Clyde Beatty, the world's greatest animal trainer, travels the jungles of the world in search of exotic beasts and adventure. Beatty's expeditionary dirigible crashes on a remote unexplored island teeming with wild animals. He discovers that two fanatic cultists on the island have killed the skipper of their group and stolen the priceless treasure of Kamor. Ruth Henderson (Cecelia Parker) enlists Beatty to help find her scientist father who has dissapeared in the wilderness and while pursuing the treasure. The 12-chapter Lost Jungle is filled with cliffhanging action and features Clyde Beatty's death defying acts of bravery which include realistic hand-to-hand battles with lions, tigers and gorillas.
Video Starts Here
A 10-chapter, B-Western, The Phantom of the West was the second all-talking serial American Mascot produced. Tom Tyler stars as Jim Lester, who tries to prove that Francisco Cortez (Frank Lanning) is innocent of killing his own father. The real villain is the mysterious Phantom and his League of the Lawless.
Video Starts Here
Perils of Pauline
- 1914
Young Pauline (Pearl White) is left a lot of money when her wealthy father dies. However, her uncle's secretary has been named as her guardian (Paul Panzer as Koerner) until she marries her fiance (Crane Miller as Harry) when she will officially take possession of her inheritance. Meanwhile, her "guardian" and his confederates constantly come up with schemes to get rid of Pauline so that he can get his hands on the money himself.
Video Starts Here