Honey Mustard Chicken Thighs with Carrots
From George Carpenter
3 tbls. Ground dijon mustard
4 Chicken thighs (preferably bone-in/skin on)
Thyme, salt, pepper (to taste)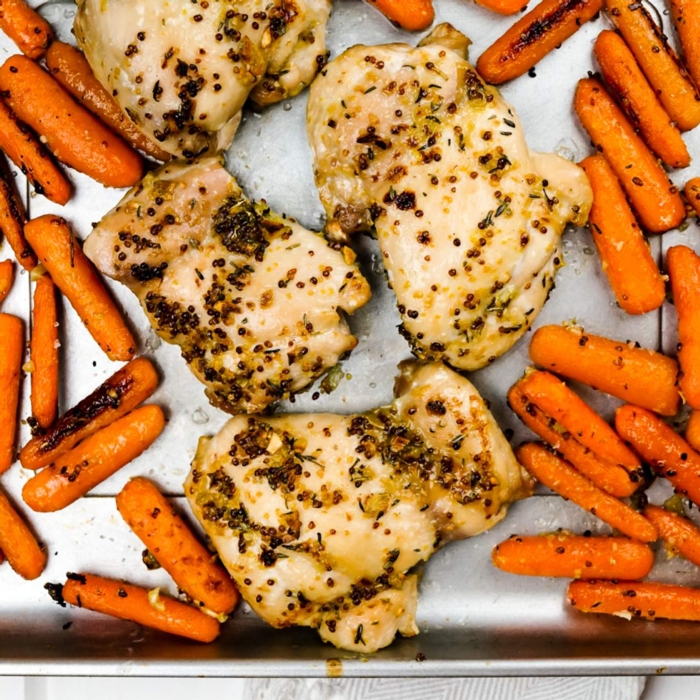 Set oven to 400 degrees.
Combine mustard, honey, 2 tablespoons oil, thyme; and rub all over chicken.
Cook in pre-heated oven. Check with instant-read thermometer after 45 minutes to see if chicken has reached 165 degrees.
Moms' Baked Scrambled Eggs
From Mom's Son George Carpenter


Serves 6 - Prep the night before.

½ lb. bacon diced + 1 tsp. bacon drippings (sausage or ham can be used)

6 slices white bread, crust removed

½ tsp. each: Salt, pepper, paprika and dry mustard
Fry bacon until crisp, drain
Cut bread into ½ inch cubes.
Place bread in a buttered 8" x "8 inch square casserole dish. Spread diced bacon over bread.
Combine remaining egg mixture and pour over bread and bacon.
Bake at 325 degrees for approximately 45-60 minutes or until knife inserted in center comes out clean.

Note: Doubling the recipe will fill a 9" x 13" pan.
From Tom Barsotti
Kosher salt
1 tablespoon minced fresh rosemary leaves
Grated zest of 1 lemon
1 (12- to 14-pound) fresh turkey
1 large yellow onion, unpeeled and cut in eighths
1 lemon, quartered
8 sprigs fresh thyme
4 tablespoons (1/2 stick) unsalted butter, melted
Freshly ground black pepper
Make-Ahead Turkey Gravy (see recipe below)
Two or three days before you plan to roast the turkey, combine 3 tablespoons salt, the rosemary, and lemon zest. Wash the turkey inside and out, drain it well, and pat it dry with paper towels. Sprinkle 1 tablespoon of the salt mixture in the cavity of the turkey and rub the rest on the skin, including under the wings and legs. Place the turkey in a shallow dish to catch any drips and wrap the whole dish tightly with plastic wrap. Refrigerate for one or two days. The day before you plan to roast the turkey, remove the plastic wrap and leave it in the fridge. The skin will dry out and turn a little translucent.

To Cook Turkey:
Preheat the oven to 450 degrees F. Be sure your oven is very clean!
Place the onion, lemon, and thyme in the cavity. Tie the legs together with kitchen string and tie the wings close to the body. Brush the turkey with the butter and sprinkle it with salt and pepper.
Roast the turkey for 45 minutes, placing it in the oven legs first. Lower the temperature to 325 degrees F and roast it for about another hour, until 165 degrees F for the breast and 180 degrees in the thigh on an instant-read thermometer. Remove from the oven, cover the turkey tightly with aluminum foil, and allow it to rest for 20 to 30 minutes.
Carve the turkey and arrange it on a platter. Cover with plastic wrap or aluminum foil and allow the turkey to sit at room temperature for up to 2 hours.
To reheat, pour a 1/4-inch layer of the gravy into a large (12 × 16-inch) ovenproof serving platter (make sure it's ovenproof!). Arrange the turkey artfully on top of the gravy. Place the platter uncovered into the oven for 15 to 30 minutes, until the turkey is very hot. Serve hot with extra gravy on the side.

Make-Ahead Turkey Gravy with Onions & Sage
| | |
| --- | --- |
| 6 tablespoons (3/4 stick) unsalted butter | 2 tablespoons Cognac or brandy |
| 1 large red onion, halved and sliced 1/4 inch thick | 10 large fresh sage leaves |
| 4 large garlic cloves, peeled and halved | 2 bay leaves |
| 6 tablespoons all-purpose flour | Kosher salt and freshly ground black pepper |
| 4 cups good chicken stock, preferably homemade | 1 cup dry white wine, such as Pinot Grigio |

Melt the butter in a large saucepan over medium heat. Add the onion and garlic and saute, stirring often, for 15 to 20 minutes, until the onion becomes browned and starts to caramelize. Sprinkle on the flour and cook, stirring constantly, for 1 1/2 minutes. Stir in the chicken stock, Cognac, sage leaves, bay leaves, 2 teaspoons salt (depending on the saltiness of the chicken stock), and 1 teaspoon pepper. Bring to a boil, lower the heat, and simmer for 20 minutes, stirring occasionally. Set aside at room temperature for 1 hour and strain, pressing the solids lightly and then discarding them. Refrigerate until ready to use.
After the turkey is cooked, remove it to a carving board to rest while you finish the gravy. Place the roasting pan on the stovetop over medium heat and add the wine. Bring to a boil, lower the heat, and simmer for 2 minutes, stirring and scraping up all the bits clinging to the bottom of the pan. Slowly whisk the gravy base into the pan. Simmer for about 5 minutes, until the gravy is smooth and slightly thickened. Taste for seasonings and serve hot.
From Connie Agnos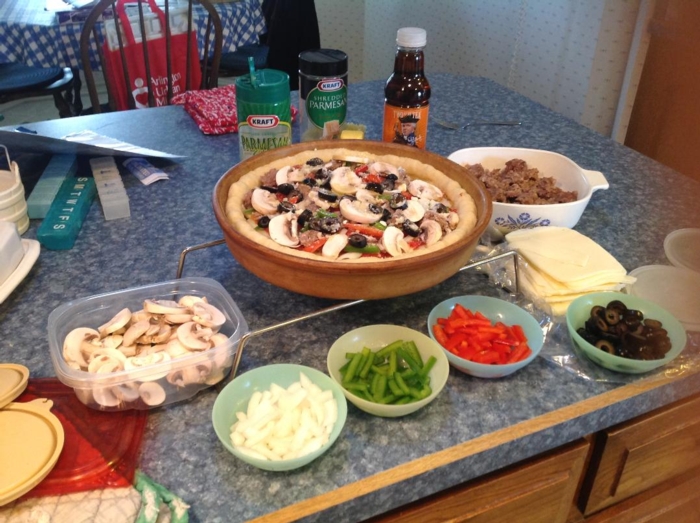 The crust recipe is enough for three 9 inch pans
or one 12 x 15 inch rectangle pan plus one 9 inch pan. (It's is easy as you do not have to roll out the crust. You just push it into place in the pan.)
| | |
| --- | --- |
| 2 packages Quick Rise dry yeast | 4 tablespoons olive oil |
| 2 cups timid water (90 degrees) | 1/2 cup yellow cornmeal |
| 1/2 cup vegetable oil | 5 1/2 cups all-purpose flour |
| 1 tablespoon salt | |

In the bowl of your electric mixer -- Kitchen Aid is perfect for this -- dissolve the yeast in the water. Add the oils, cornmeal, and three cups of the flour. Beat for 10 minutes with the mixer. Add the dough hook and mix in the additional 2 1/2 cups of flour. Knead for several minutes with the mixer. (It is hard to do by hand since the dough is very rich and moist.)
Round out the dough, put into a large greased bowl, and cover it with another bowl or cloth. Allow the dough mixture to rise until its doubled its size, about
45-60 minutes.
Punch down and allow to rise again, about 30 minutes.
Punch down a second time, and you are ready to make pizza!
Oil the round cake or cast iron pizza pans. (I use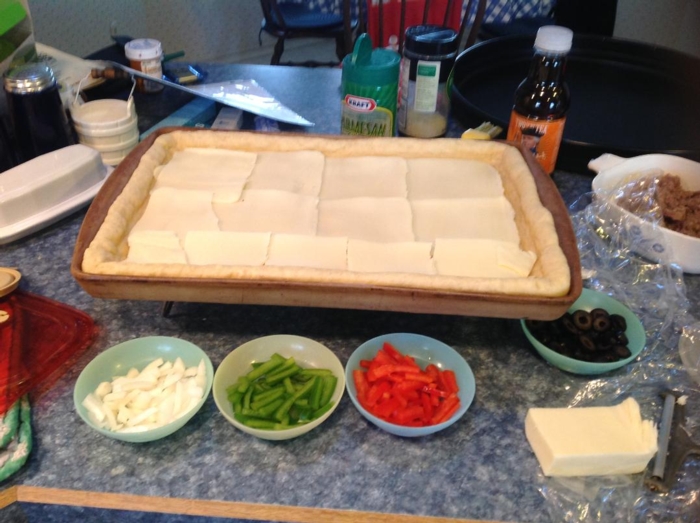 Pampered Chef stoneware and sprinkle cornmeal in mine.)
Divide the dough in thirds if using three 9" pans or 1/3 for one 9" and two for 12x15" rectangular pan.
Push the dough out to the edges using your fingers.
Run the dough up the side of the pans. Make it about 1/8-inch thick throughout the pan.
Preheat the oven to 475 degrees. Prick the dough bottom with a fork at 1/2-inch intervals; brush the dough lightly with olive oil; and pre-bake the crust for exactly 4 minutes in the preheated oven.

Pizza Filling for a 9 inch Pan (Double if making two pizzas)
| | |
| --- | --- |
| 8 slices Mozzarella cheese | 2 cloves garlic, crushed |
| 2 cups canned plum tomatoes, drained and squished | Salt to taste |
| 1 tsp basil | 3 tbsp grated Parmesan for topping |
| 1 tsp oregano | 2 tbsp olive oil to drizzle on top |
Prepare the tomatoes while the dough is rising. Lay the squished tomatoes on a baking sheet; season with the basil, oregano, garlic, and salt; and allow to air dry. (You want as much moisture out of the tomatoes as possible.)

To Assemble and Bake
Lay the slices of Mozzarella cheese evenly over the pre-baked crust (not the border). Next put the tomatoes over the cheese. Add any additional topping of your choice; sprinkle with Parmesan cheese; drizzle with olive oil; and you are ready to bake.

Bake at 450 degrees for 20 to 25 minutes.

Variations
Before you put on the Parmesan cheese and olive oil drizzle, you might want to add any, or all, of the following:
Italian sausage, (Sweet is my favorite),* sliced Pepperoni, sliced mushrooms, sliced yellow or sweet onions, sliced green/red peppers, sliced Black olives.
* I pre-cook the boil the sausage links, and then skin and break into chunks to make sure it is cooked through.
This takes a while, and although not UNOs, it is well worth it.
Chicken Parmesan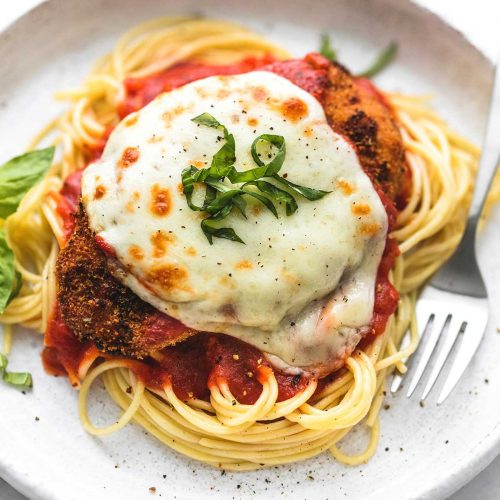 From Connie Agnos
4 boneless chicken breasts
2-3 cups of your favorite spaghetti sauce (I use Newman's Own Marinara.)
1/4 cup Parmesan cheese
8 slices mozzarella cheese (Lots of shredded works too.)
2 T water
1 large egg
1/2 Cup vegetable oil
3/4 Cup Bread crumbs
Heat oven to 350 degrees. Mix egg and water. Mix bread crumbs and Parmesan cheese. Dip and coat chicken and cook in heated oil until browned on both sides. Lay chicken in baking dish. Add sauce. Cover each breast with 2 slices of Mozzarella (or generous amount of shredded). Cover and bake 30-40 minutes.
Serve with hot Italian or garlic bread and pasta.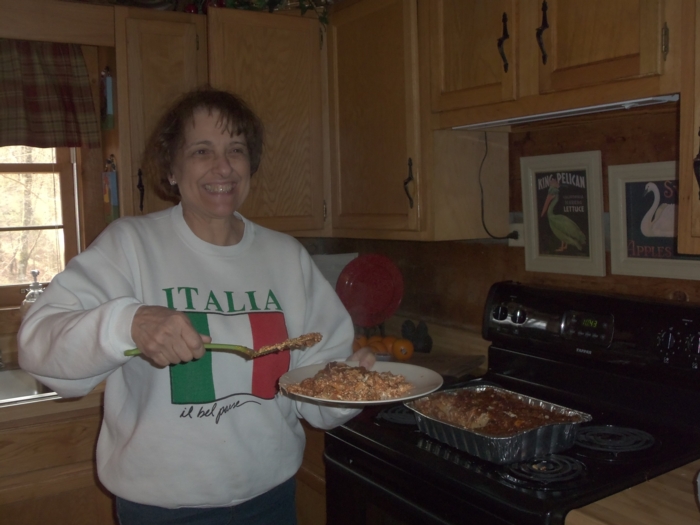 Remember, No Shortcuts!


The Meatballs (Hint: Also excellent as meatloaf or hamburgers)
1

½

lbs ground beef
2 eggs or

¼

C egg beaters




½

C chopped onions




¼

C chopped fresh parsley




½

t salt (optional)

½

t pepper




½

C (or so) breadcrumbs
1 t fennel
Oregano


2 T olive oil
Mix all ingredients except oregano and olive oil and form into balls. Brown sausage and meatballs in olive oil in frying pan; sprinkle both sides heavily with oregano while browning. Remove and set aside in bowl.

The Sauce
2-28 oz cans of crushed tomatoes
1 can water
4-6" piece hot Italian sausage

or




p

inch of red pepper
1 t salt (optional)

½

C chopped fresh parsley
1 large bay leaf
1 t fennel
1 t black pepper


½

t basil
Place all ingredients in a 6 qt sauce pan. Add about 1½ cup of water to browning pan and scrape bottom as water boils. Place the scrapings into sauce pan. Stir to mix everything together, bring to a boil, turn down to simmer for about 2-2½ hours. Add water if it thickens too quickly.
Next add meatballs and sausage to sauce. Add about ½ cup of water to bowl, scrape, and add to sauce. Simmer at least ½ hour more. (Add water if it thickens too quickly.) Continue to simmer until desired consistency or that of a cheese sauce.
Recipe makes enough sauce for 2 pounds of macaroni or 1 pound of lasagna.

The Lasagna
1 lb. lasagna


½

l lb. ricotta


2 eggs or ½ C egg beater
½ C chopped parsley
¼ t freshly ground pepper
½ t salt (optional)

1 lb. sliced mozzarella


Hunk of fresh Romano cheese to
grate


½ lb. sliced mushrooms


Excellent Meatballs (Recipe above)
Excellent Sauce (Recipe above)

Heat oven to 375 degrees.
Take 3 meatballs and the piece of sausage and put aside for snacking. Mash the rest of the meatballs in a bowl with a fork. Add mashed meatballs and sliced mushrooms to sauce; heat thoroughly. Take care that the mixture does not become too thick. Add water if it does.
Fill 10-12 qt. pan about 2/3 with hot water, add 1 T olive oil to prevent pasta from sticking, and bring to rolling boil over high heat. Add lasagna and stir until water is again boiling.
Stir every so often or stir continuously to keep pasta moving in pan. Remove when cooked al dente, drain in colander, and shake lightly to help drain water. Do NOT rinse; in fact, NEVER rinse any kind of pasta!
Mix eggs with a fork. To ricotta add eggs or egg beater, parsley, salt if desired, and pepper; mix well with fork or wire whisk. Separate ricotta mixture into 3 piles. (Note: This can done earlier in the day and refrigerated until you are ready to assemble the lasagana.)
Separate 1 lb. of sliced mozzarella into 3 piles.
Lightly grease pan with olive oil. Cover pan with thin layer of meat-mushroom sauce.
Layer 3 times in this order:
1. Pasta
2. Ricotta mixture
3. Sliced mozzarella
4. Meat-mushroom sauce
The final layer of sauce should completely cover everything. (NOTE: Judging how much sauce to use per layer is difficult. I always skimp on the bottom layers to be sure I'll have enough to cover the top.)
Generously grate fresh Romano cheese over final sauce layer. (Do NOT cover as is shown in the video on our Home Page.)
Place in pre-heated oven and cook for approximately 45 minutes. Check during the final 15 minutes to keep from becoming too dry.
I suppose you should let the cooked lasagna stand for about 10 minutes before eating; but if your family is like mine, you can skip this step.
Yes, this is a lot of work; but it's worth it. However, I only make it once a year now--usually for Christmas Eve.
Crock Pot Barbecued Pulled Pork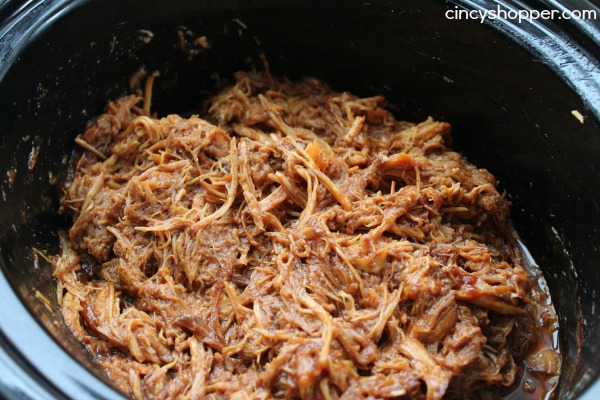 From Connie Agnos
This recipe cooks for about 14 hours (2 steps) but it takes only 15 minutes of your time. Start the first step in the evening and let it cook overnight. Then on to the second step the next morning. Great for a crowd or freeze it in small batches and microwave when you want it.
4 lb. boneless pork butt or shoulder
1 can Cola (I use Coke)
1 bottle barbecue sauce ( your favorite)
Trim all possible fat from roast. Place in crock pot, pour cola over roast, cover and cook on low for 10-12 hours or until pork can be easily shredded.
Remove pork from pot, shred in a bowl or cookie sheet, removing all possible fat. You can use two forks or your fingers (let cool slightly). Discard liquid. Return pork to the pot (you don't have to wash it). Add barbecue sauce to taste and mix. Continue to cook for up to 5 hours (I usually only cook for 2 hours more) really depends on when you want to eat, the longer the more tender. Taste along the way and add barbecue sauce if needed.
Serve on buns with pickles and coleslaw if desired.