| | |
| --- | --- |
| ¾ cup walnuts, finely chopped | 16 oz. can pumpkin |
| 1/4 cup cold water | ½ cup milk |
| ¾ cup granulated sugar | 1 tsp. pumpkin pie spice |
| 3 large eggs, separated | ¼ tsp. vanilla |
| ½ t salt | 1-8 inch cooled pie shell |
| 1 cup Cool Whip | Walnut halves |
| 1 envelope unflavored gelatin | |
Soften gelatin in water in saucepan. Stir in pumpkin , ½ cup sugar, milk, lightly beaten egg yolks, pumpkin pie spice, and salt. Heat to boiling, stirring constantly. Turn heat to low; cook 5 minutes, stirring. Remove and add vanilla. Chill until mixture thickens slightly.
Beat egg whites to soft peaks. Gradually beat in 2 tablespoons of sugar until stiff. Fold into pumpkin mixture along with chopped walnuts.
Turn half pumpkin mixture into pie shell and spread level. Top with ¾ of cool Whip and spread level. Spoon on remaining pumpkin filling. Decorate top with remaining Cool Whip and walnut halves. Chill at least 4 hours.
Mom Carpenter's Carrot Cake
From Son George
Cake Ingredients

2 ¼ cups sifted flour

2 tsp. – Vanilla

2 cups white sugar

1 – 8 oz. can crushed Pineapple (pineapple not completely drained)

2 tsp. cinnamon

2 tsp. salt, separated

2 cups grated carrots

2 tsp. baking soda

2 cups shredded coconut

4 whole eggs

1 cups chopped walnuts

1 ½ cups vegetable oil
Sift together in a large bowl: flour, sugar, cinnamon, 1 teaspoon of salt, and baking soda.
Add eggs, vegetable oil, one teaspoon of salt, vanilla, crushed pineapple, and grated carrots. Mix.'
Fold in coconut and walnuts.
Pour in 9" x 13" pan and bake in 350 degree, pre-heated oven for approximately 50 minutes. (Depends on whether you use metal or glass pan so check after 40 minutes.)
Frosting Ingredients
1 8 oz. cream cheese
½ stick butter
1 ½ cups powered sugar
1 tsp. vanilla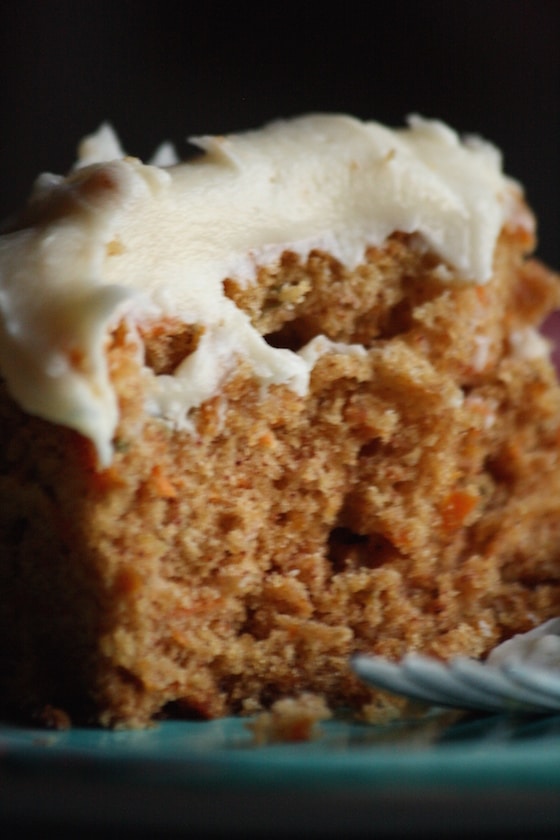 (Double frosting if making 3 layers.)
Cream the cheese and butter together until fluffy. Add sugar and vanilla.
Spread on cooled cake. (Stays moist, freezes well.)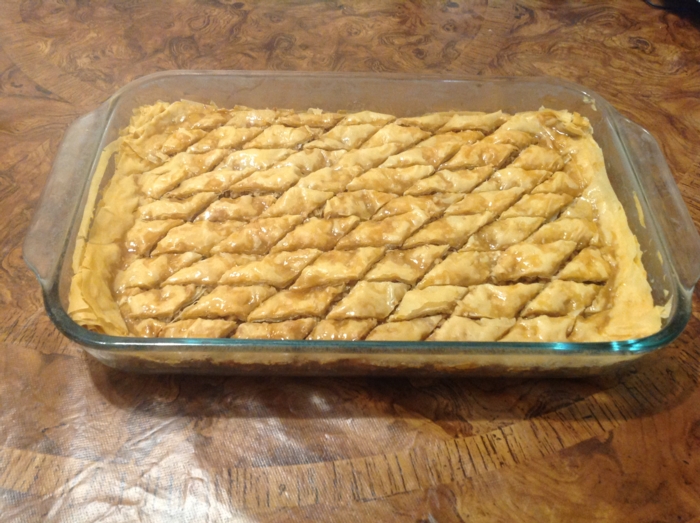 Baklava
From Connie Agnos
4 Cups walnuts (1-16 oz pkg finely chopped
1/2 Cup sugar
1 t ground cinnamon
1 lb phyllo
1 cup butter, melted
16 oz honey
About 2 1/2 hours before serving or up to 2 days ahead:
Grease 13" x 9'' baking dish. In a large bowl with spoon, combine chopped walnuts, sugar, and cinnamon until blended; set mixture aside.
In baking dish, place 1 sheet of phyllo, allowing it to extend up sides of dish; brush with some butter. Repeat to make 5 more layers of phyllo; sprinkle with 1 cup walnut mixture. Cut remaining phyllo into approximately 13" by 9" rectangles.
Place 1 sheet of phyllo in baking dish over walnut mixture; brush with butter. Repeat to make at least 6 layers, overlapping small strips of phyllo to make rectangles, if necessary. Sprinkle 1 cup of walnut mixture evenly over phyllo.
Repeat step 3 two more times. Place remaining phyllo on top of last walnut layer. Trim any phyllo that extends over top of dish. With sharp knife, cut just half way through all layers in a diamond pattern. Bake in 300 degree oven for 1 hour and 25 minutes or until top is golden brown.
Meanwhile, in 1-quart saucepan over medium-low heat, heat honey until hot, but not boiling. Spoon hot honey evenly over Baklava. Cool in pan on wire rack at least 1 hour, then cover and leave at room temperature until serving time.
To Serve: Finish cutting through the layers with a sharp knife.
From Son Tom
Biscotti Ingredients
4 oz butter
10 oz sugar
3 each eggs
1 TBL Anise extract (Glynis' adjustment replacing vanilla)
18 oz flour
3 tsp baking powder
1/2 tsp salt
1 Tbl anise seed, cracked
3 oz walnuts, hand chopped, coarse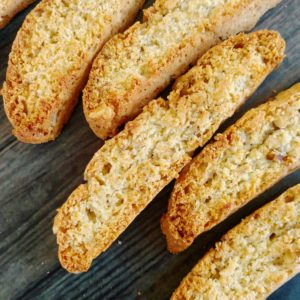 Cream butter, add sugar, eggs, vanilla
Mix flour, baking powder, salt, anise and walnuts. (Nuts, coarsely hand chopped)
Gradually add to butter mixture.
Shape into 12" logs, 6 oz each. Place 4 each on greased -- Mom preferred parchment paper -- ½ size sheet pan. Flatten to about 1/2 size.
Bake @ 400 degree F, for 20 minutes. Cut on the diagonal, into slices BEFORE COOLING.
Place the cut biscotti in the 400 degree for up to 5 minutes after cutting, depending on how crisp you wish them to be.
Cream Cheese Danish
From Connie Agnos
2 boxes puff pastry sheets, thawed in refrigerator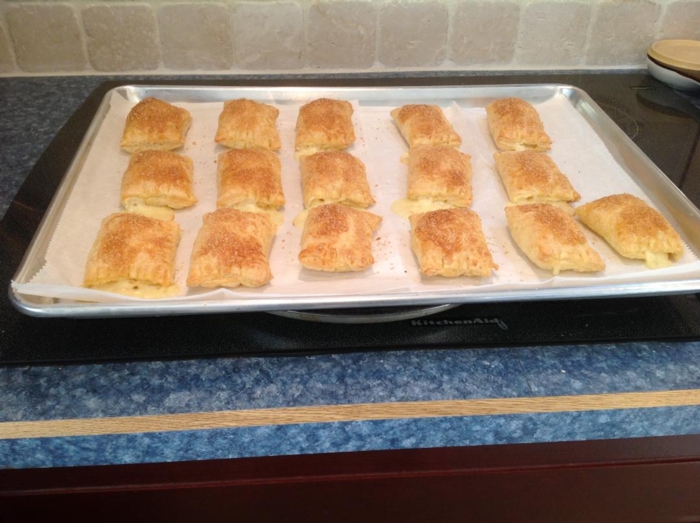 2-8 oz packages cream cheese, softened
1 ½ teaspoons almond extract
1 teaspoon vanilla extract
2 teaspoons sour cream
¾ cup white sugar
1 large egg ehite + 1 tbsp water
¼ (or more raw sugar
Preheat oven to 400 degrees. Lightly grease a baking pan or cookie sheet. (Connie lines his with parchment paper.)
In a large bowl, mix together cream cheese, white sugar, almond extract, vanilla extract, and sour cream.
Unfold puff pastry and cut along seam into three separate sheets. Roll out lengthwise on lightly floured surface to about 19 x 4 inches. Cut into 6 pieces.
Whisk egg white and 1 tbsp water in small bowl for egg wash.
Brush edges of pastry with egg wash, spread filing (about 1 or 2 tablespoons) on cut pastry on one side, and fold dough over filing so that short ends meet to form a 6 x 3 inch packet. Crimp edges with a fork to seal. Using a sharp knife, cut a few slits in top to vent.
Brush tops with egg wash and then sprinkle with raw sugar.
Bake in preheated oven for 17 to 18 minutes.
Makes 2 dozen or more depending on the size you cut the puff pastry.
NOTE: You can make them as big as you want and put in as much filling as you want. I sometimes use apricot, blueberry, or raspberry filling in place of the cream cheese mixture.
Mini Carmel Pecan Rolls
From Connie Agnos
These are great sweet rolls that are easy to make and ready in about 35 minutes.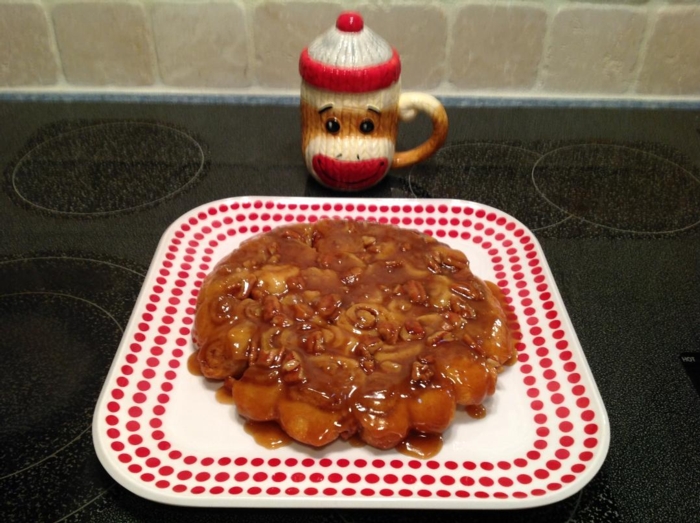 1/3 cup packed light brown sugar
1/3 cup butter cubed
2 Tbsp. light corn syrup
1 1/2 tsp. milk
1 tube (8 oz.) refrigerated crescent rolls
2 tsp. sugar
1/2 tsp. Ground cinnamon
1/2 cup chopped (or broken ) pecans
Preheat oven to 375. In a small saucepan, combine brown sugar, butter, corn syrup and milk; cook and stir over medium heat until blended. Pour into a greased 9-in. pie plate. Sprinkle pecan pieces over heated caramel sauce.
Separate crescent dough into four rectangles; gently press perforations to seal. In a small bowl, mix sugar and cinnamon; sprinkle evenly over rectangles. (I often brush soft butter on first). Roll up jelly- roll style, starting with the long side; pinch seams to seal.
Cut each roll into nine slices; place into greased pie plate, cut side down.
Bake 15-18 minutes or until golden brown. Cool for 1 minute before inverting onto a serving plate.
Banana Nut Bread
From Connie Agnos
1 3/4 cups sifted all purpose flour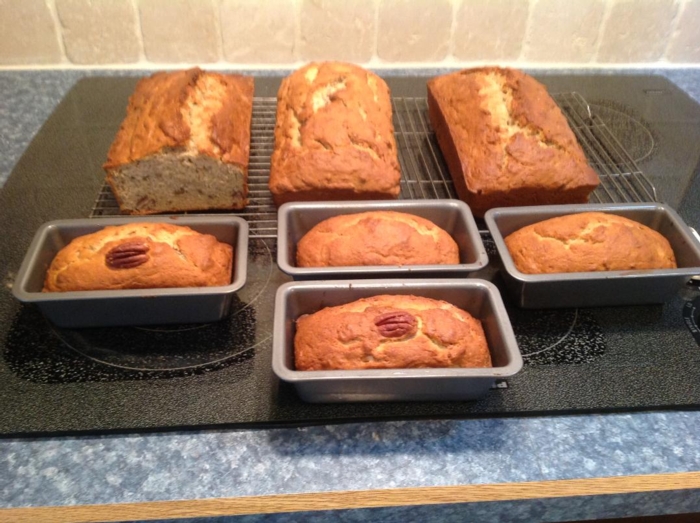 2 teaspoons baking powder
1/4 teaspoon baking soda
1/2 teaspoon salt
1/3 cup soft shortening
2/3 cup granulated sugar
2 eggs, unbeaten
1 cup mashed ripe bananas (3 bananas)
1/2 cup or more of pecans broken, more if you like
Start heating oven to 350. Grease 9" x 5" x 3" loaf pan.
Sift flour, baking powder, soda and salt.
With electric mixer at medium speed or "cream", (or with a spoon), throughly mix shortening with sugar, then with eggs until very light and fluffy (like whipped cream), about 4 minutes altogether. Then at low speed or "blend" beat in flour mixture alternately with bananas until smooth. By hand add nuts and turn a couple of times then turn into the pan. Bake 1 hour or until done. You can test if it's done by inserting a toothpick into the bread, if it comes out clean bread is done! Cool in pan 10 minutes, remove and cool on wire rack before slicing, ( if you can wait).
I like to spread butter on my banana bread when having it for breakfast.